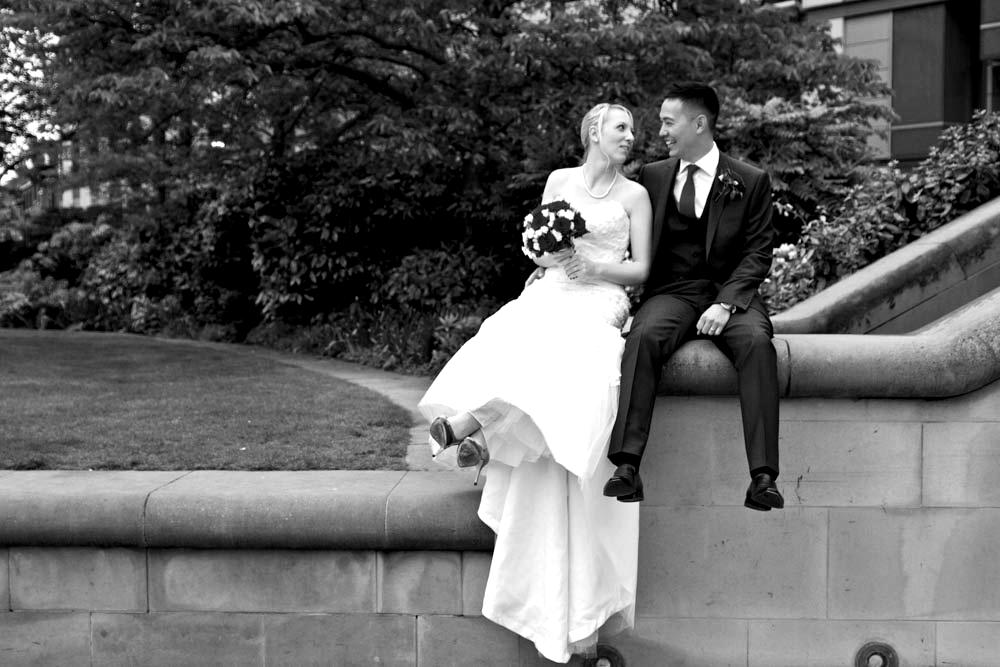 [vc_row][vc_column][vc_column_text]I remember getting excited for this wedding.  Mike and Gemma had met in Sheffield University, and loved the place from the start.  At the time, doing the Pre-Wedding shoot, ideas came flowing through like the water at the Sheffield Peace gardens.  Idea's on where this stylish little picture would go, and how about a photo near the iconic Lyceum Theatre?  Gemma was just as excited as I was after I told her the vision we had for her and Mike's wedding.
I've got to say from the beginning though, this was the best city centre wedding I had attended so far.  It differed from the usual venues I've been to so far.  The reception was held in the Millennium Galleries.  At first, I was a bit apprehensive, as I had a slight mental block on how the day would pan out, however, after talking with Gemma and Mike, the creative juices got started again.
Towards the end of the night, Gemma and Mike had a little trick up their sleeves by bringing some frames and jokey wooden face masks.  These went down a storm, so much that I bought some myself for future events.
Gemma and Mike wanted to capture the spirit of the city, and so we travelled for 30 mins taking photos at various places in the city centre.  Most memorable were the ones near the Lyceum and Peace Gardens.
Finally, their night of celebrations begun with the first dance.  This was so mesmerising!  Gemma and Mike has invested in some dancing lessons, and arranged for a set dance to do for their first as Mr and Mrs.  Wonderful moves were captured with the flash units.  Take a look below…
[/vc_column_text][/vc_column][/vc_row][vc_row][vc_column][vc_masonry_media_grid element_width="12″ grid_id="vc_gid:1475510970419-79e3b552-3946-0″ include="1718,1720,1724,1725,1726,1728,1731,1735,1737,1739,1740,1742,1743,1747,1748,1750,1751,1754,1760,1762,1763,1767,1768,1769,1771,1775,1777,1778,1781,1784,1786,1789,1796,1801,1802,1804,1806,1807,1808,1811,1815,1816,1818,1819,1821,1822,1825,1830,1832,1833,1837,1839,1841,1842,1843,1845,1847,1848,1849,1851,1861,1871,1874,1877,1880,1884,1895,1898,1899,1902,1903,1904,1907,1909,1917,1918,1919,1924,1925,1929,1938,1940,1942,1943,1948,1950,1951,1955,1964,1972,1984,1989,2027,2029,2031,2045,2047,2057,2060,2063,2065,2069,2075,2079,2085,2088,2091,2098,2101,2107,2110,2113,2112,2119,2178,2181,2183,2188,2190,2193,2195,2201,2202,2211,2220,2222,2224,2226,2229,2235,2239,2246,2254,2258,2263,2264,2270,2278,2277,2283,2296,2307,2308,2311,2322,2336,2349,2351,2356″][/vc_column][/vc_row]